GradeSlam Tutoring is an LTI through Canvas that will allow students to receive live tutoring, 24/7. GradeSlam can also help with essay writing support by reviewing essays in unders 24 hours with feedback on how to improve your grammar, content, and structure, and is available for any subject.
Step 1: Open Course in Canvas
Log into your Canvas account and go to the course where you would like to access GradeSlam.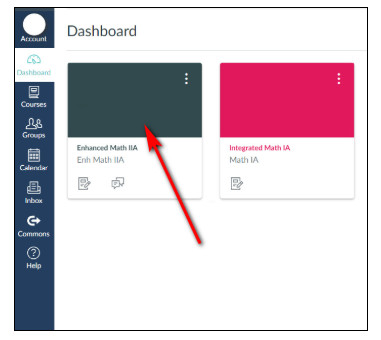 Step 2: Go to GradeSlam Tutoring
Once you are in your course, click on GradeSlam Tutoring in the left side Navigation Links to launch GradeSlam.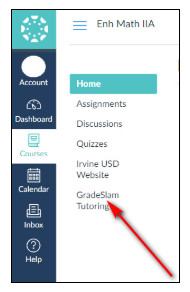 GradeSlam Dashboard
After clicking on GradeSlam Tutoring in the Navigation Links, you should be automatically logged in and taken to your GradeSlam dashboard. From here, you can reach out to a tutor, upload an essay for review, start a group session, or schedule a future session with a tutor.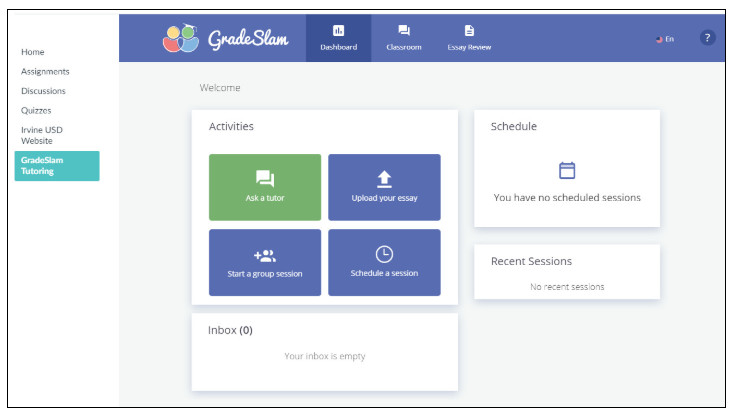 This document was created for Irvine Unified School District by the Information Technology Department.
Author: EdTech Help Desk
For technical assistance, please email helpdesk@iusd.org