Destiny
How to Access Your Record
This tutorial will show users how to look up their record in Destiny to see current checkouts and fines.
Step 1: Go to https://iusd.org/destiny
Choose your site from the list: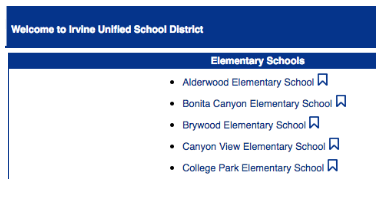 Step 2: Log in
Once you are on your school site's Destiny Homepage, click "Log In" in the top right corner.

Use your regular computer login credentials:

Step 3: Accessing Your Record
Click on the "My Info" tab to bring up your record.

On this screen, you will see any library/resource checkouts or fines owed in this view.

For questions about fines or checkouts, please contact the library staff at your school.
Last updated 8/10/22 [SI]