WHAT IS THE PURPOSE OF THIS TUTORIAL?
This tutorial outlines the steps parents would take within Blocksi's Parent Dashboard to block websites that they do not want their children to access while using an IUSD issued device at home.
*Please note that Parent Dashboard settings will only be effective outside of instructional hours of 7:30 am to 4:30 pm Monday through Friday regardless of whether the student is on campus or at home.
---
Step 1: Create List
Click on "Exception List" on the left navigation panel.
Name your list
Select Create List
---
Step 2: Add Websites to Your List
Add the URL of the site you would like to block. If you include a "*" after the URL, Blocksi will not allow any page on that website.
Select "Add to exception list"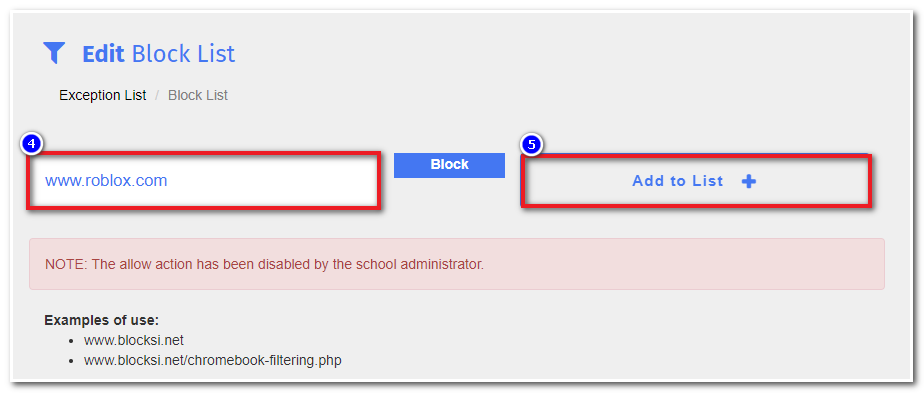 Once finished, your block list would look like this:
---
Step 3: Applying Your List
In order for your list to be effective, you'll need to apply it to your child's account. To apply your list, return to the main dashboard by selecting Dashboard on the left navigation bar.
On the Users Table, select your list under the Exception List field. Once your list displays next to your child's name, it has been set and will block the sites on your list.
---
Step 4: Editing Your List
Select the edit icon on your list
---
For additional information, please refer to the additional articles in the Blocksi section of the help center.
This document was created for Irvine Unified School District by the Information Technology Department.
If you have any questions, submit a new ticket or email us at helpdesk@iusd.org.
Last Updated 7/19/23 [CK]