When children are at school, we filter their network connection against harmful content, and students' use of technology is largely supervised. Our teachers have the Blocksi classroom management tool to keep students on task and focused on learning.
District Web Filtering
IUSD has added Blocksi filtering to every IUSD student's Google account to recreate their on-campus filtering experience as best as possible. Google searches are forced to Safe Search, and web pages that fall into inappropriate categories are blocked. While no web filter is perfect, this should provide some peace of mind that your students are protected online.
Parent Tools
While the internet monitoring needs of each family vary at home, we are excited to announce the Blocksi Parent Dashboard as a way to meet these needs. This is an optional resource for parents that will allow you to create your own website block lists, manage their screen time, and run reports for web activity.
Blocksi Parent Dashboard Overview
Actions for you:
Watch the Blocksi Parent Dashboard Overview video
A 6-minute video that covers everything you need to know
Go to parent.blocksi.net and create an account
Please register using the same email address as your Parent Portal account, you can click "Sign in with Google" button if your email is through Gmail. Enter your child's email address when prompted, his will be their username@iusd.org. Finding Your Child's Username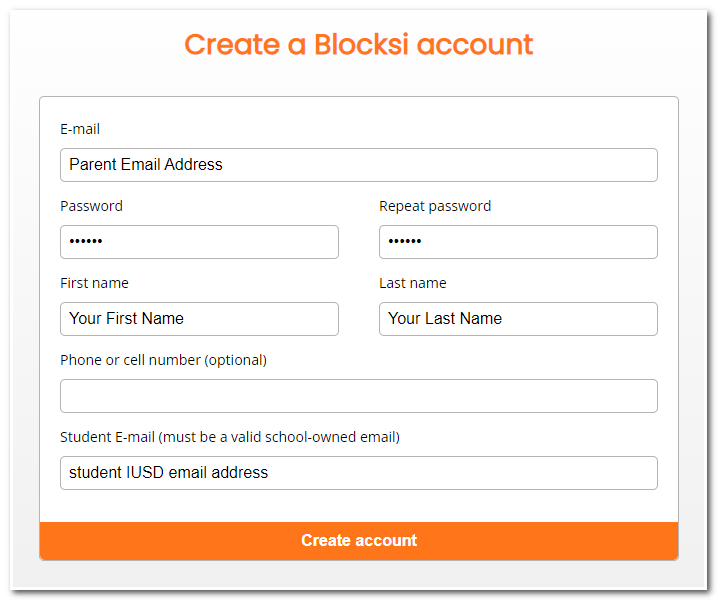 3. Wait for a confirmation email from Blocksi
Our team needs to review each request and make sure each parent matches up to the requested student in Aeries. We try to get to this within about 1 business day, but depending on the volume of requests, our response time may vary.
For privacy purposes, individual policies can't be managed by IUSD IT.
Please note that we don't have visibility into the settings you create on your parent dashboard. We are more than happy to assist with troubleshooting if necessary.
Please contact us at helpdesk@iusd.org should you need any assistance with Blocksi. In order to allow us to expedite the troubleshooting process, please include screenshots of your Parent Dashboard so that we can point you in the right direction.
Updated 6/8/22 [CK]