WHAT IS THE PURPOSE OF THIS TUTORIAL?
This guide provides the instructions for IUSD students to login to Canvas.
---
Step 1: Username and Password
Usernames for students include grad year, last name, first name (ex. 19DoeJohn) and should not include "@iusd.org"
The default password will be the student's permanent ID number, unless it has been changed by the student.
---
Step 2: Go to Canvas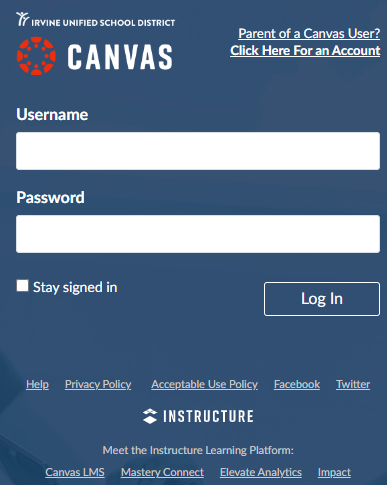 ---
Resources
A student's username and password can be found in Parent Portal, if you have never used Parent Portal, you'll need to reach out to the school site for assistance before continuing.
To find a child's username and password:

Login to Parent Portal (https://my.iusd.org)
Hover over Student Info
Click on Demographics
Click on the Student Data 2 tab
Network Login ID = username (the naming convention is year of graduation + last name + first name)
---
This document was created for Irvine Unified School District by the Information Technology Department.
If you have any questions, submit a new ticket or email us at helpdesk@iusd.org.
Last Updated 7/5/23 EE