WHAT IS THE PURPOSE OF THIS TUTORIAL?
This tutorial demonstrates how to access the audio files within the digital version of a McGraw-Hill Impact textbook.
---
Step 1: Access Audio Menu
The audio files for students can be found in both the Accessible Student Edition and the Interactive Student Edition.

Click on the tiny speaker icon in the top right-hand corner.

The menu should look like this when open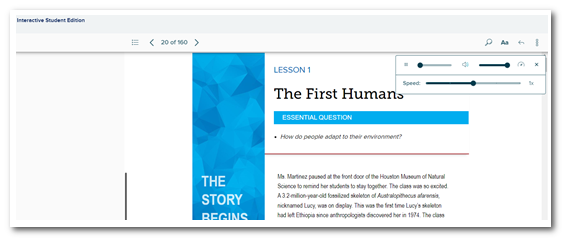 ---
Step 2: Adjust Volume and Speed
Click on the highlighted icon below to adjust the volume and speed and then the play button.

---
This document was created for Irvine Unified School District by the Information Technology Department.
If you have any questions, submit a new ticket or email us at helpdesk@iusd.org.
Updated 10/17/23 CK