IUSD is excited to continue our device insurance program as a resource for parents who will be checking out a Chromebook for their students to use at home in the 2023/2024 school year. This year, we will be continuing device take-home programs for our middle and high schools, as well as all grade levels at IVA.
Parents have the option to purchase a $20 warranty from IUSD to cover accidental damage and theft. This is a one-time fee for the school year to cover potential incidents like cracked screens, missing keyboard keys, damaged plastics, liquid spills, and theft. Funds raised from this program will be used to repair damaged devices, replace devices, and ensure our schools have enough devices to provide access to every student in IUSD.
Without insurance, typical repair costs for things like a broken screen or keyboard can range from $30-$75 depending on the model. For excessive damage, our Chromebooks have a total replacement cost of $225. Our goal is to ease parent concerns over damage to devices while in their child's care and continue to support a sustainable take-home program for our schools.
You can sign your student up for Chromebook Insurance at MySchoolBucks.com. You'll need to create an account and add in your student's information so we can associate the insurance with your child. Additional information regarding creating a MySchoolBucks account can be found in the Article below:
Getting Started with MySchoolBucks
2023 Enrollment Window: July 12, 2023 - September 30, 2023
If you miss the initial enrollment window or check out a device later in the year, you can still purchase insurance for the 23/24 school year using the link below. Late enrollments are not prorated and do not cover incidents of damage before the purchase.
IUSD Chromebook Insurance (direct product link)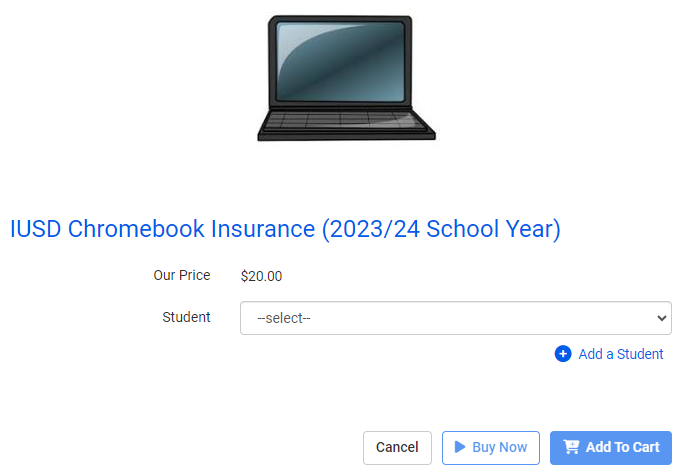 If you have any questions about the Insurance program, check with your school or email helpdesk@iusd.org.
Should you need to file a claim due to damage or theft, you can find details on the process here:
Chromebooks - Reporting Damage or Loss
Chromebooks - Paying for Damage or Loss


Typical Chromebook Repair Costs (without Insurance)
| | |
| --- | --- |
| Damage | Cost |
| Broken Screen | $35 |
| Keyboard (inc. missing keys) | $25 - $50 |
| Physical Damage - Plastic Case | $30 - $75 |
| Lost Charger | $25 |
| Full Replacement | $225 |
Last Update: 06/29/23 [JJ]