Paying for Damaged or Lost Chromebooks
We understand that accidents happen and Chromebooks are an important tool in today's education. If your device does happen to get damaged or lost, please follow the steps in our article: Chromebooks - Reporting Damage or Loss. We will exchange your damaged or lost device for a working one to minimize any disruption to your child's learning.
Damage Assessment
Once the device has been brought in as damaged or reported as lost, IUSD staff will determine whether repairs or a replacement of the device is required. If you did not choose to purchase the IUSD Chromebook Insurance and your device is damaged, the cost of the repair will be assessed as a fine to the student's record in Destiny.
Typical Chromebook Repair Costs (without Insurance)
| | |
| --- | --- |
| Damage | Cost |
| Broken Screen | $35 |
| Keyboard (inc. missing keys) | $25 - $50 |
| Physical Damage - Plastic Case | $30 - $75 |
| Lost Charger | $35 |
| Full Replacement | $225 |
These fines may vary by model and by the extent of the damage. You will be notified of the actual cost after the device has been inspected by a technician.
Total Loss
If the Chromebook is damaged beyond repair, lost, stolen, or unreturned to the school, the full replacement value of $225 will be assessed as a fine.
Payment
Payments for damaged devices will be completed completely online through MySchoolBucks.com. Please do not bring this payment to your school (this process is different from the library/textbook reimbursements). You'll need to create a MySchoolBucks account and add in your student's information so we can associate the payment with your child. Payments for repairs can be made online using the link below: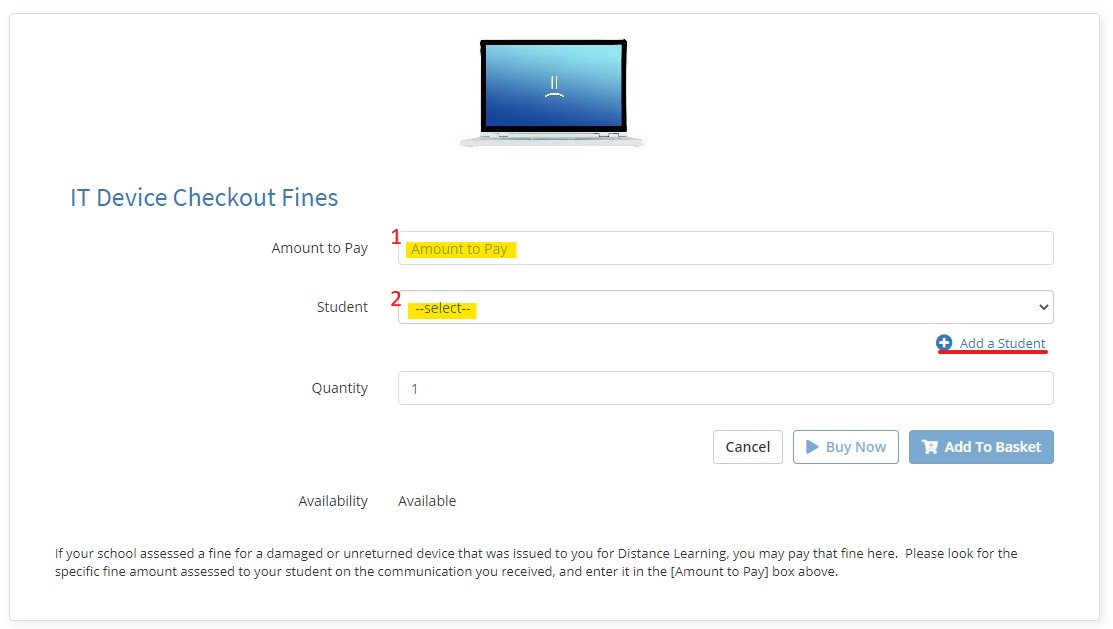 Please enter the fine amount in the "Amount to Pay" box before clicking on the Buy Now button.

Select your child from the Student drop-down, click +Add a Student if you do not have a student already listed in the Student drop-down menu.